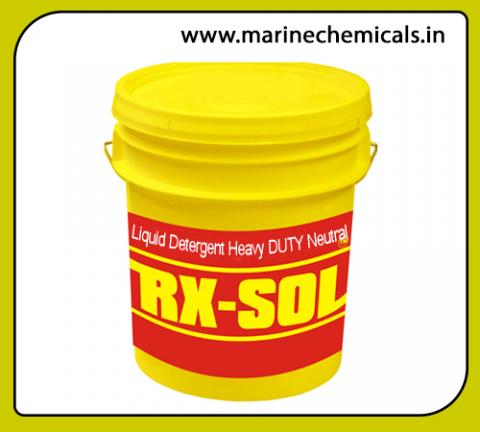 Liquid Detergent Heavy DUTY Neutral
Formulated to cut greasy stains in a wide range of conditions including hard water.Soft and mild on the hands.
Product alias:
Heavy duty Alvacraft, "SEA SHIELD" DETERGENT CLEANER 79118, TEEPOL B-300, SU120 of Johnson Diversey
Product Delivery Locations:
Mumbai, JNPT, Nhava Seva, Pirpav Jetty, Ballard Pier, Mumbai Port Trust, Butcher Island, ONGC EMR Shed, MIdc, Pune, Maharastra
Product Description:
RXSOL-13-1501-025 is a superior & powerful neutral cleaner containing corrosion inhibitors to prevents the corrosion of metals.It is low toxic product with an exceptional solvency power on soil & oily matter & having good foaming qualities.It is free from Hydrocarbon solvents,Biodegradable and minimizes the extreme hazards to personnel in handling materials Applications RXSOL-13-1501-025 Suitable for cleaning engine components like fuel and Lube oil filters,Injection nozzles, pump components, inlet and exhaust valves & primarily refers to cleaning of hard surfaces,such as Decks,Tanks,Engine-rooms,etc.can be used for all types of cleaning and degreasing and may be applied by brush,handspray,high and low pressure washing machines etc.Directions for Use and Dose Rates General Cleaning.
 
Why .... RXSOL Liquid Soap is better ....  than .... any others ?
 ( 1 ) - RXSOL Liquid Soap is manufactured under Quality-Control-System.
( 2 ) - There are generally used SALT ( Sodium Chloride ) in Local Market , which is dangerous for cleaning due to high Chloride  value . In General market availability of  local products' Chloride value is crossing sometimes 200 PPM whereas scientifically, maximum Chloride limit is 5 PPM.
( 3 ) - RXSOL Liquid Soap is blended  of selected Long-chain-polar surfactant. 
( 4 ) - RXSOL Liquid Soap has low Foam due to advance technique whenever others have high Foam resulting to waste our precious water and more time .
( 5 ) - Any liquid has bacterial & fungal growth nature due to lack of Preservative . Generally no one use Preservative to avoid such growth. You may ask your other supplier , " which Preservative do you use to stop the growth of Bacteria, Algae, etc. ? "
        The growth of  bacteria makes your liquid solution highly poisonous which may cause many disease to us. Our   RXSOL - Liquid Soap is blend of Preservative to stop such growth. 
Product Application:
liquid detergent for washing tableware and kitchen utensils.Formulated to cut greasy stains in a wide range of conditions including hard water.Soft and mild on the hands.
RXSOL-13-1501-025 can be used for all types of cleaning & degreasing & may be applied by Brush, Hand spray, high and low pressure washing machines etc.Time necessary for cleaning depends on the nature and thickness of the deposits.20-30 min.will suffice for most applications.Hardened,carbonised or aged deposits may require up to 4 hours. If the cleaning solution is not heavily contaminated, it may be re-used at a later stage.If allowed to cool,the degassing procedure must be repeated.
Neutral Liquid Cleaners are applicable in various sectors as a Multipurpose  cleaner.It is an anionic surfactant as well a liquid based detergent.

These chemicals are very effective in nature & had some major benefits:-

It is completely soluble in water, chlorinated solvents and most aromatic solvents.
It is chemically stable in presence of dilute acids, bases and salts.
It is also compatible with soaps, anionic, cationic and other non-ionic surfactants and many organic solvents.
It has excellent rinsability  nature and does not leave behind any residue after cleaning.
It is neutral pH and non-oxidising,which makes it human skin friendly.


Some of the major application areas of multipurpose neutral liquid cleaner are:-

Pharma and Bulk Drug Industry  for cleaning of vessels, utensils, tables, floors and walls.
Food, Beverage and Dairy Industry for multipurpose cleaning cum degreasing of stubborn greasy fat and protein deposits and stains of milk and milk products on aluminum / plastic crates, floors, walls, tables and other food contact surfaces.
Shipping Companies for cleaning of vessels, tanks, floor and walls of containers.
Product Technical Specification:
Product Properties:
| | | |
| --- | --- | --- |
| Appearance | Pale yellow liquid |   |
| Density | In g/cm3 at 15°C: 1.01 |   |
| Compatibility Metal | No known effect |   |
| Rubber | No known effect |   |
| pH | Alkaline ( 6 - 8 ) |   |
| PACKAGING | RXSOL-16-1501-025 | Size (in Litres) 25, |