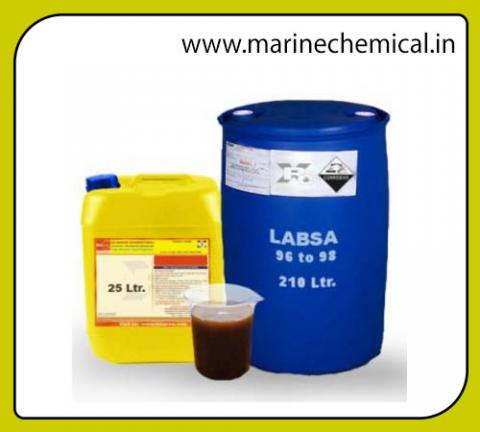 ACID Slurry LABSA 96 to 98 60 Kg
Product Delivery Locations:
Mumbai, JNPT, Nhava Seva, Pirpav Jetty, Ballard Pier, Mumbai Port Trust, Butcher Island, ONGC EMR Shed, MIdc, Pune, Maharastra
LABSA 96 to 98 ( Acid Slurry )
Product Description:
LABSA 96% Produced through indigenously designed reaction system, our range of LABSA 96% (linear alkyl benzene sulfonic acid) is manufactured using in-house technologies. It helps us to reducing sulphonation costs by more than 20% and offer a better range of chemicals which meet clients specific requirements.
SPECIFICATION OF LABSA
Product Name: LABSA
Product Remarks: Brown Viscous Liquid
Poduct Category: Cleaning Raw Materials
Product Description: Name: LABSA 96%
Chemical Formula: R -C6H4-SO3H
Appearance : Brown viscous liquid

Specifications:- 96%
1) Appearance- Pale Brown Clear Liquid
2) Linear Alkyl Benzene Sulfonic Acid- 96% minimum
3) Free oil(NDOM)- 1%maximum
4) Free Sulphuric acid- 1.5%maximum
5) Color- 20-25 Kletts
6) Moisture (Karl Fisher)- 1.5%maximum
7) Biodegradability- 92% Specification for LABSA 98% We offer to our clients superior range of linear alkyl benzene sulfonic (labsa 98%), which is a fully neutralized compound, and is used in formulation to provide effective detergent to the finished product.
Product Application:
USAGE of LABSA: The product can be used as the raw material to produce kinds of detergent, emulsion such as laundry powder, dish wash cleaner in daily chemical industrial.
CHARACTERISTIC : Our products has high action of detergency, moistening, Foaming, emulsion. It is brown viscous fluid in appearance with acidity and strong absorbency. Packing Details: 210KG Net Plastic Drum or according to customers' requirements
Product Technical Specification:
CERTIFICATE OF ANALYSIS (COA)
Product alias:
<p> Acid slurry, Linear Alkyl Benzen Sulphonic Acid, LABSA</p>