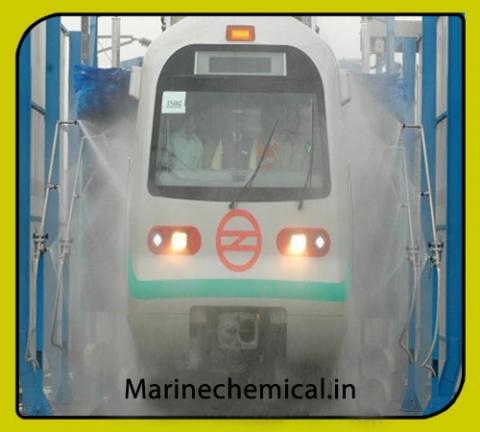 Train Wash
Concentrated high performance non ionic detergent cleaner
Product pack size:
20 Ltrs, 25 Ltrs, 50 Ltrs , 210 ltrs, 1000 Ltrs
Product alias:
Eurowash 1000, Rail-clean detergent
Product Delivery Locations:
Mumbai, JNPT, Nhava Seva, Pirpav Jetty, Ballard Pier, Mumbai Port Trust, Butcher Island, ONGC EMR Shed, MIdc, Pune, Maharastra
Product Description:
Rxsol Train Wash is Concentrated high performance non ionic cleaner formulated to remove traffic film, brake dust, dirt, grease and other similar soil from the bodywork of rail carriages. It is highly effective for both use in Automatic Brush Washes and for manual exterior cleaning.
Product Application:
It is water-soluble, phosphate-free cleaning product specially designed for the exteriors of trains, cars, lorries, tarpaulin covers and other vehicles. Foaming cleaner especially suitable for car- and train-washes and transport companies with cleaning gantries.
Product Procedure:
Rxsol Train Wash For light soil use at 0.5% (1:200), normal soil, 1% (1:100), heavy soil 2% (1:50).
Automatic Brush Wash
Ensure that the dosing pump has been calibrated for dilution at the appropriate rate. Carry out cleaning as specified by the brush wash manufacturer.
Pressure Washer

Using a low pressure, apply the appropriate dilution. Start from the lower sections and work up towards the roof. If necessary, agitate the surface with a soft brush to loosen tenacious soiling matter. Rinse off using a high pressure working down from the roof.
By Hand
Rxsol Train Wash to the appropriate level. Apply the diluted product with a soft brush, start from the lower sections and work up. Let the solution dwell for a few minutes then agitate the surface, work up systematically from the lower sections. Rinse off with clean water, working from above down towards the lower sections
Product Technical Specification:
| | | |
| --- | --- | --- |
| Appearance | : | Clear, liquid |
| Odour | : | Pleasant |
| S.Gravity | : | 1.1 |
| pH Conc. | : | 10.5-11.5 |
| pH Dilute | : | 7-8 |
| Flash Point | : | Not Available |
| Surfactant Type | : | Non Ionic |
| Boiling Point | : | 100 Deg. C |
| Solubility in water | : | Complete in any ratio |
| Shel Life | : | 36 Month date of Mfg. |
| | | |
| --- | --- | --- |
| Appearance | : | Clear, liquid |
| Odour | : | Pleasant |
| S.Gravity | : | 1.1 |
| pH Conc. | : | 10.5-11.5 |
| pH Dilute | : | 7-8 |
| Flash Point | : | Not Available |
| Surfactant Type | : | Non Ionic |
| Boiling Point | : | 100 Deg. C |
| Solubility in water | : | Complete in any ratio |
| Shel Life | : | 36 Month date of Mfg. |
Product Note:
Future & Benefit :
Speed and thoroughness of traffic film removal.
The low foam characteristics of the product rendering it more compatible and convenient for use with the vigorously agitating brushes of the automatic wash plant.
The exceptional rinsability characteristics of the product. The clean, bright finish that was left on the surface."
High dilution rates (1% for normal soiling) – very economical
Dilute pH of less than 10 - effluent can be immediately discharged into sewer mains
Moderate foaming - quick and easy rinsing
Sequestrants control lime scale and iron stains
Anti-static agent to leave sheen and reduce dirt build-up
Non-hazardous according to EU regulation
Biodegradable materials
Does not contain NTA, EDTA or HEDTA