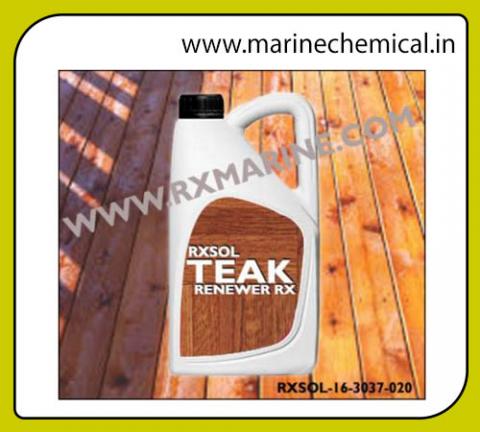 Teak Renewer RX
Product Delivery Locations:
Mumbai, JNPT, Nhava Seva, Pirpav Jetty, Ballard Pier, Mumbai Port Trust, Butcher Island, ONGC EMR Shed, MIdc, Pune, Maharastra
Teak Renewer RX is a dry product formulated for brightening wooden decks
Product Description:
Teak Renewer RX is a dry product specially formulated for brightening wooden decks. For removal of oil and fat and for daily cleaning use RXSOL Aquabreak RX or Inviro Cleaner.
Product Application:
Wooden Deck Cleaning and Brightening. Teak Renewer RX `is used to remove wood discolouration commonly found on untreated teak, mahogany or oak decking.
Product Procedure:
Dissolve 5 to 10% Teak Renewer RX in fresh water.
Apply the solution on the surface with a chemical spray unit or manually.
Leave for 30 to 45 minutes.
Wash off with fresh clean water.
Product Note:
Features & Benefits :
Dry acid deck cleaner
Surface brightening of wood
Removes stains and discolouration
Water soluble for ease of use
Quick, efficient cleaning power
Disposal : This composition meets the criteria for not being harmful to the marine environment according to MARPOL Annex V and may be discharged into the sea when used to clean cargo holds and external surfaces on ships.
Product Technical Specification:
| | |
| --- | --- |
| Form | Crystalline powder |
| Appearance | White |
| Density | 1.6 |
| pH, in 10% sol. | 1 |
| Not Compatible | Long term exposure will cause corrosion. |