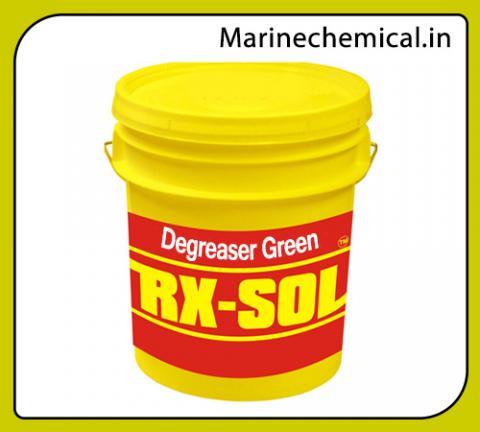 Degreaser Green 20 Ltr
New technology surfactants With high solvency and emulsification effect
Product alias:
IMPA 551002 , Deck Cleaner / Degreaser Multi Purpose / Water Soluble, Weicon Workshop Cleaner
Product Delivery Locations:
Mumbai, JNPT, Nhava Seva, Pirpav Jetty, Ballard Pier, Mumbai Port Trust, Butcher Island, ONGC EMR Shed, MIdc, Pune, Maharastra
Product Description:
Cleaner Cum Degreaser ::: RXSOL-10-1006-020 Mixture of Emulsifier, new technology surfactants (With high solvency and emulsification effect),Corrosion  inhibitors, Rust  preventive. due to free from  caustic  and Hydrocarbon very  gentle on hands & ideal for cleaning Walls Wood works, Metals and all areas . Acts as superior quality cleaner / degreaser.BIO DEGRADABLE.
It is a unique formulation blended from inorganic, organic compounds and detrgents with powerful dispersing agents. Readily soluble in water in all proportions. It is non - corrosive to metal like copper, aluminium, mild steel, and plastic. It is no - toxic which makes handling easy. 
Product Application:
Complete removal of dirt, oil, carbonised grease, hevy oil, gum, vegetable oil, lube oil, soot, asphalt, carbon stains etc. Given clear finish to the surface. Excellent for use as a wash for fuel tankers & as a lIquid steam jenny compond. heavy duty liquid Decarbonizer cum Degreaser for removal of carbon and stubborn greasy deposits. Multipurpose application on various metal articles such as machineries, tube bundles, tanks, tools, floors, etc.


Being miscible with fresh or sea water in all proportions it is particularly useful for the marine industry. Can be used in many applications including: painted or unpainted decks, walkways, bulkheads, portholes, glass, vinyl, laminates, etc. It can also be used in the aviation, food processing, paint, printing, newspaper and municipal applications
Product Technical Specification:
Dosage:
Nature Of Residue Veg.Oil (Drying/Non Drying Fish Oil,Alcohol,Acids,Amines)
DIRECT INJECTION
0.03-0.5%    
CIRCULATION
0.05-0.7 %

 

ORGANIC MATERIAL (HYDROCARBON )   

0.0 5-0.5%  

0.05-0.7%

 

Product Propreties  
Characteristics :

 

Appearance

Compatible with oily water separators.

 

Odour / Solubility

Releasing the oil phase for reclamation. Suitable for all types of floors. Deodorizing  nature

 

Density

Eliminates the need to buy & stock duplicate products because of its effectiveness.

 

Compatibility

An economic highly concentrated product.

 

Metal Rubber

Also used for gas and hydrocarbon freeing of tanks.Free from caustic & hydrcarbon,Non flammableWater  based , Biodegradable .Safe to metal                                                                                                   

 

pH Neat

12

RXSOL-10-1006-020 SB- Packaging

 Size In Ltr.20,35,210
RXSOL-10-1006-020  has numerous general cleaning applications including the removal of greases, oil, sludge, carbon deposits, general dirt and grime. Can be used as engine room cleaner. Suitable for cargo tank cleaning. Can be used as accommodation cleaner for bulkheads, decks, toilets. Suitable for cleaning of soiled textiles as rugs, covers, mats, overalls, etc. Effectively cleans glass fibre boats, hulls and painted surfaces