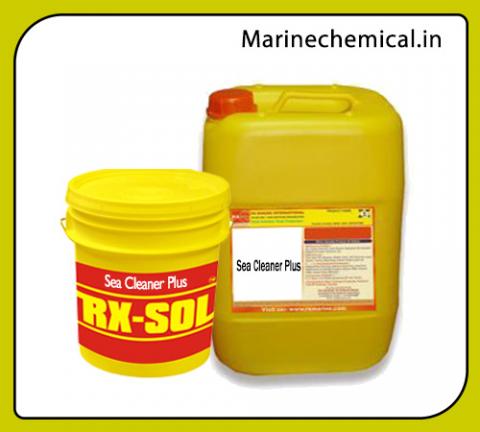 Sea Cleaner Plus 25 Ltrs
Specially formulated for cleaning of double bottom, deep and wing tanks etc, used for fuel oils. Also for local cleaning and degreasing of deck and engine rooms, Oil installations, workshops, plant yards, industrial plants as degreaser and cleaner
Supplier:
Seaclean supplier in Mumbai. Best rate of seaclean available with this LINK , SEA Clean super degreaser best challenging price for bulk purchase can be obtained. We have regular supply for seaclean in Mazgaon Dock ship repairing yard - Mumbai.
Distributor:
Seaclean distributor through shipchandler on SHIP. We are keeping ready stock of Seaclean to full fill our regular demand of SHIP. SEACLEAN can be use as super degreaser to clean ship tank as well as motor machinery parts and deck engine area. SEAclean have unique feature to reacts with oily greasy particle and makes it water soluble. Seaclean Hydrophobic and hydrophilic strong power giving excellent cleaning effect.
Manufacturer:
Seaclean Principally based to dissolve heavily deposited OILY and Greasy molecule. Our R & D team continiously working with this product since 1995, And our end user continiously supported by giving there feedback to make our product as a top in quality worldwide.  This is the reason why we are no-1 in marine industries. 
Exporter:
Exporter of Seaclean from INDIA to Russia, Turkey, Middleeast.
Product Delivery Locations:
Mumbai, JNPT, Nhava Seva, Pirpav Jetty, Ballard Pier, Mumbai Port Trust, Butcher Island, ONGC EMR Shed, MIdc, Pune, Maharastra
Product Description:
Seaclean Manufacturer, supplier and Exporter. Specially formulated for cleaning of double bottom, deep and wing tanks etc, used for fuel oils. It can also be used for local cleaning and degreasing of deck and engine rooms.  Its strong emulsifying nature completely makes fuel oils miscible with water due to that It's application field increases as strong cleaner for BOILERS , MARINE DIESEL ENGINE COOLING WATER SYSTEM  and for local cleaning and degreasing of engine rooms  on deck. This product is also popular used on oil installations, workshops, plant yards, industrial plants as degreaser and cleaner
RXSOL-20-2027-025 is an effective  liquid blend of  modern low toxic, biodegradable solvent, concentrated emulsifier with penetrating agents, mild abrasives and wetting agents which makes this an excellent  liquid scouring cleansers  for cleaning and degreasing action which makes useful for Cargo tank cleaning after drying, semi-drying. And non-drying natural oils and fats. Saponifying and detergents.
Similar familly group of this product is Tank clean Plus, Clean break, Seaclean, Tankleen. 
Product Application:
Dosage Chart for Rock and Roll Cleaning

Fuel Oil Viscositry Centistokes at 50°C

RXSOL-20-2027-025 / 1000 Ltsof water

 

 

1st Stage

2nd Stage

Over 320 and sludge tanks

1 litre

1 litre

150 - 300

1 litre

0.75 litre

Up to 50

0.5 litre

…

Physical Properties

Colour

Light brown liquid

 

Density

In g/cm3 at 15°C: 0.9

 

Flash Point

Above 70 °C

 

PACKAGING

Order No

RXSOL-20-2027-025

Size (in litres)

20 , 25 , 35 , 210.
Product Technical Specification:
Highly effective concentrated cleaner .
Versatile, can be used for a wide application range ( for TANK or general cleaning .)
Provides quick and thorough emulsifying action.
Can be used for cleaning , gas freeing of double bottom, deep and other fuel oil bunker tanks.
May also be used for cleaning and gas-freeing of crude and refined mineral oil cargo tanks.
It can be used as a general purpose cleaner to remove oil and grease deposits  and cleaning of bilge spaces and engine rooms from soiled surfaces. Can be used for degreasing and cleaning engine cooling water systems