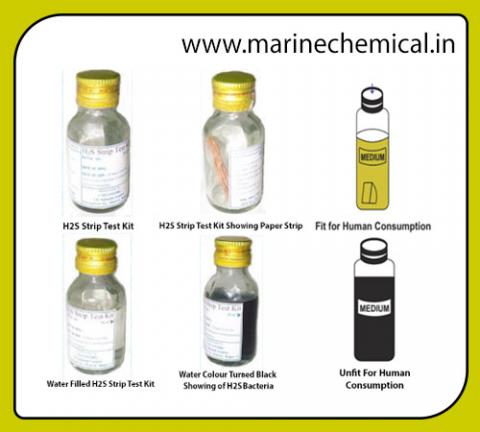 H2S vial (Bacteriological ) Kit
Product Delivery Locations:
Mumbai, JNPT, Nhava Seva, Pirpav Jetty, Ballard Pier, Mumbai Port Trust, Butcher Island, ONGC EMR Shed, MIdc, Pune, Maharastra
H2S vial (Bacteriological ) Kit is for checking Microbiological Quality of water. 1 PACK = 1 TEST
Product Description:
H2S vial (Bacteriological ) Kit use for checking microbiological quality of water. Water borne diseases like typhoid ,cholera, diarrhoea and jaundice and caused  by polluted water supply. The conventional method for testing the microbiological quality of water needs the service of  a qualified microbiologist , laboratory facilities  and take 60 - 72 hours to know the result. And further the laboratory may charge any amount per sample for the test. The new devloped screening test ,  done at field itself, dispenses with all these problems and will cost  & timing much less.
Product Application:
H2S vials test of water.
 
What is H2S Strip Test Kit?
RXSOL  H2S Strip Test is ready to use simple device based on hydrogen sulphide indicator bacteria for carrying out bacteriological examination of drinking water. The Hydrogen Sulphide Paper Strip Method.
The Hydrogen Sulphide Paper Strip Method developed by Manja et al. (1982) is an on site testing method for the microbial quality of drinking water and is based on the detection of hydrogen sulphide producing bacteria rather than the coliform bacteria. Human faeces contain a high concentration of sulphate reducing bacteria of up to 1010/g (Levett, 1993) and some of the enteric bacteria such as Salmonella, Proteus, Citrobacter and some strains of lebsiella,also produce hydrogen sulphide. 
Sterlized paper strip treated with media is kept in sterlized glass bottle. The water sample is filled in the bottle and kept for 24 to 48 hours at room temperature (25 to 37 C).
If bacteria are present in the sample, they produce hydrogen sulphide, which turns water sample black.
Product Technical Specification:
Product alias:
H2S Vials Test Kit, SRB Test Kit BS115