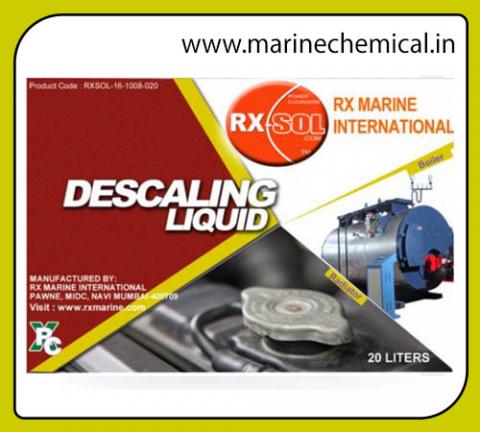 Descaling Liquid 555
Scales are very damaging to the boiler because they interfere with the heat transfer and can lead to overheating and eventually, boiler rupture , To increas usable life of cleaned equipment , it is safe and effective way to remove scale deposits
Product alias:
LIME-OUT, ANTISCALLENT, DESCALER MTA, DESCALE IT, HCL DESCALER, DESCALER LIQUID 555, Phosphoric Descaler
Product Delivery Locations:
Mumbai, JNPT, Nhava Seva, Pirpav Jetty, Ballard Pier, Mumbai Port Trust, Butcher Island, ONGC EMR Shed, MIdc, Pune, Maharastra
Product Description:
Scales are very damaging to the boiler because they interfere with the heat transfer and can lead to overheating and eventually, boiler rupture , To increas usable life of cleaned equipment , it is safe and effective way to remove scale deposits from all types of water-cooled and water-heated equipment. This descaler specifically formulated and developed to rapidly clean mineral scale from passages in water-cooled or heated equipment. It improves Plant Efficiency, Lowers Cost, Conserves Energy, Decreases Down-Time.
It does not contain toxic cresols or other tar oils that Require SARA Title III, Section 313 spill loss or disposal.

Do not use concentrated 1008 on aluminium surfaces

Uniqueness of 1008 :: --
RXSOL 1008 Descaler has the ability to dissolve approximately 1.5kg of calcium carbonate scale per gallon in concentrated form. It does not need to be heated up during cleaning. The uniqueness of this Descaler allows you to clean some equipment while still in operation utilizing a minimum of your own personnel.
Product Application:
Low Foaming Solution. Safely removes scale from cooling towers, pipes, Boilers, Calorifiers, Heat exchanges, diesel engine cooling system, Condensers, Evaporators & other types of equipment where rust & scale form without system shutdown
It Effectively Removes Scale, Heavy Slime and Algae from surface. RXSOL 555 is an inhibited phosphoric acid descaler which is much safer and non-fuming. Also  safe on paint.
Product Technical Specification:
• Automotive - Closed Circuit Cooling, Dynamometers, Extruders, Molders, Radiators, Welders
• Bottling - CO2 Generators, Heaters, Exchangers, Rinse Tanks, Sterilizers, Washers
. HOUSE HOLD - Dissolves hard and old lime scale deposits from your appliances. It extends the life of the appliance and saves running cost. It can be used in appliances such as Washing Machines, Dish Washers, Geysers, Steam Iron, Coffee Makers, Bath Tubs, Bathroom Fixtures etc.
• Buildings - Chillers, Cooling Towers, Pipework
• Chemicals - Dryers, Extruders, Kettles, Mixers, Reactors, Scrubbers, Vacuum Pumps
• Food - Condensers, Ice Machines, Kathabars, Refrigeration Equipment, Steam Tables
• Manufacturing - Chillers, Compressors, Furnaces, Quenchers, Vacuum Pumps
• Metals - Bearings, Castings, Fans, Hearth & Vacuum Furnaces, Shelters, Sprays
• Mining - Bearings, Conveyors, Filters, Presses, Process Lines, Radiators
• Paper- Calendar Mill Rolls, Caustic Lines, Scrubbers, Compressors, Liquor Tanks, Pulverizers, Vacuum Pumps
• Pharmaceutical- Exchangers, Loop Systems, Kathabars, Pumps, Reactors, Stills, Sterilizers
• Refinery - Compressors, Converters, Crackers, Exchangers, Piping, Pumps
• Rubber/Plastics - Banbury Mixers, Calendar & Mill Rolls, Extruders, Injection Molders, Molds, Temperature Control Units, Throat Coolers, Towers, Tubers
• Steel - Bearings, ConCast Units, Generators, Hearths, Spangle Units, Furnaces
• Textile - Air Washers,Compressors, Condensers, Exchangers, Extruders,Towers
Boilers
Condensers
Filters
Heat Exchangers
Kettles & Tanks
Pipelines
Pots
Reactors
Steam Jackets
Bath Rooms and Showers
Metal Processing and much more!
Applications

  Automotive

  Bottling

  Chemicals

  Food

  - Closed Circuit Cooling

  - Dynamometers

  - Extruders

  - Molders

  - Radiators

  - Welders

  - CO2 Generators

  - Heaters

  - Exchangers

  - Rinse Tanks

  - Sterilizers and Washers

  - Dryers

  - Extruders

  - Kettles

  - Mixers

  - Reactors

  - Scrubbers

  - Vacuum Pumps

  - Condensers

  - Ice Machines

  - Kathabars

  - Refrigeration Equipment

  - Steam Tables

  Manufacturing

  Metals

  Mining

  Paper

  - Chillers

  - Compressors

  - Furnaces

  - Quenchers

  - Vacuum Pumps

  - Bearings

  - Conveyors

  - Fans

  - Hearth & Vacuum Furnaces

  - Shelters

  - Sprays

  - Bearings

  - Conveyors

  - Filters

  - Presses

  - Process Lines

  - Radiators

  - Calendar Rolls

  - Mill Rolls

  - Caustic Lines

  - Scrubbers

  - Compressors

  - Liquor Tanks

  - Pulverizers

  - Vacuum Pumps

  Pharmaceutical

  Refinery

  Rubber & Plastics

  Steel

  - Exchangers

  - Loop Systems

  - Kathabars

  - Pumps

  - Reactors

  - Stills

  - Sterilizers

  - Compressors

  - Converters

  - Crackers

  - Exchangers

  - Piping

  - Pumps

  - Banbury Mixers

  - Calendar & Mill Rolls

  - Extruders

  - Injection Molders

  - Molds

  - Temperature Control - Units

  - Throat Coolers

  - Towers and Tubers

  Bearings

  ConCast Units

  Generators

  Hearths

  Spangle Units

  Furnaces

  Textile

  Utilities

  Other Applications

   

  - Air Washers

  - Compressors

  - Condensers

  - Exchangers

  - Extruders and Towers

  - Boilers

  - Turbines

  - Transformers

  - Cooling Towers

  - Air Compressors

  - Hydrogen Coolers

  - Lube Oil Heat Exchangers

  - Ball Mills

  - Demisters

  - Evaporators

  - Locomotives

  - Absorption Units

  - Diesel Generators

  - Induction Furnaces