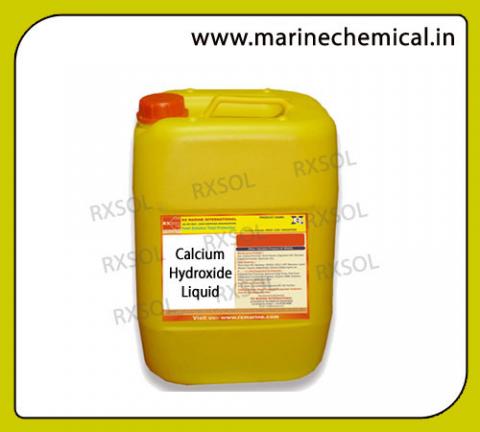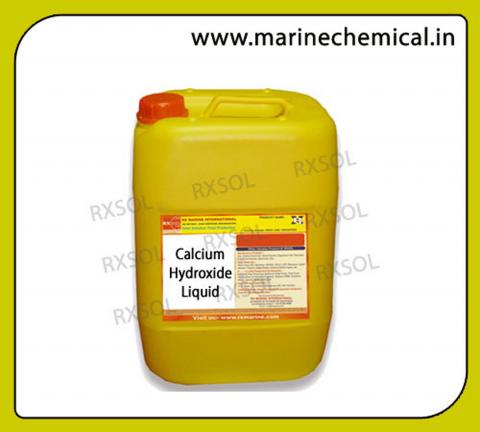 Calcium Hydroxide Liquid
Product Delivery Locations:
Mumbai, JNPT, Nhava Seva, Pirpav Jetty, Ballard Pier, Mumbai Port Trust, Butcher Island, ONGC EMR Shed, MIdc, Pune, Maharastra
Liquid Calcium Hydroxide (LCH) is used in water treatment, waste water treatment, acid neutralization and as a substitute in many liquid caustic applications.
Product Description:
Calcium hydroxide (traditionally called slaked lime) is an inorganic compound with the chemical formula Ca(OH)2. It is a colorless crystal or white powder and is obtained when calcium oxide (called lime or quicklime) is mixed, or slaked with water. It has many names including hydrated lime, caustic lime, builders' lime, slack lime, cal, or pickling lime.  Calcium Hydroxide is use as a raw material for many chemical processes that require a highly reactive, high purity, consistent product. The small particle size and top size make it an excellent choice for many applications. RXSOL Calcium Hydroxide prepared to customer specifications.
Product Application:
Soft, white crystalline powder with an alkaline, slightly bitter taste. Used for mortar, cements, white wash, soil conditioner, drying hold, and cleaning.

Calcium Hydroide has many application  including Mortar, plasters, cements, calcium salts, causticizing soda, depilatory, unhairing of hides, whitewash, soil conditioner, ammonia recovery in gas manufacture, disinfectant, water softening, purification of sugar juices, accelerator for low-grade rubber compounds, Shipping , Marine  and petrochemicals.

 
Product Technical Specification:
Appearance

White Powder

Odor

Odorless

Density

2.211 g/cm3, solid

Ca(OH)2
99.00%
Calcium (Ca)
53.50%
Free Moisture
0.2%
CO2
0.5%
Sulfur (S)
0.02%
Crystalline Silica
<0.1%
Acid Insoluble
Substances
0.07%
Silica (SiO2)
0.2%
Alumina (Al2O3)
0.2%
Iron (Fe2O3)
0.04%
Magnesium (MgO)
0.3%
 
Product alias:
<p> Calcium Hydroxide Lime Liquid</p>