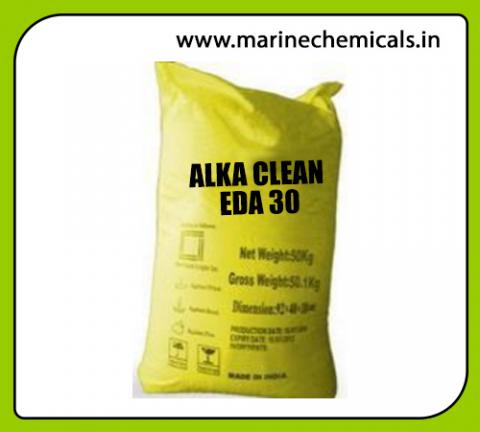 Alka Clean EDA 30
It is an over all purposes cleaner for Ferrous and Non-ferrous metals and has wide range of applications. The cleaner has long service life with very good
Product alias:
Surfolin SK 40, Ridoline 24, MARICLEAN DG-25
Product Delivery Locations:
Mumbai, JNPT, Nhava Seva, Pirpav Jetty, Ballard Pier, Mumbai Port Trust, Butcher Island, ONGC EMR Shed, MIdc, Pune, Maharastra
Product Description:
RXSOL-16-1696-030 is an over all purposes cleaner for Ferrous and Non-ferrous metals and has wide range of applications. The cleaner has long service life with very good cleaning effect. It is alkaline in nature without Cyanide and any complexing agent and it removes grease, soil, weak scale layers and leaves the surface active and bright.
Product Application:
 Prior to all kind of plating.
 Prior to Blackening and Phosphating.
 In a continuous Automatic strip, wire or coil cleaning purposes.
This product is usefeull to used as a cleaning agent for engine rooms, decks, cargo holds or even as a tank cleaner. It efficiently removes heavy grease, sludge, fatty oil, fish oil, animal and vegetable oil.
Multi–purpose water based cleaner, which Consists of biodegradable ingredients. And does not contain nonyl phenols neither caustic alkalis and free from hydrocarbons and chlorinated solvents.
Product Technical Specification:
•Non flammable and non combustible liquid of low toxicity.
•Can be used for a variety of general cleaning, such as removal of grease, oil, sludge and grime.
•Can be used efficiently as cleaning agent for engine rooms, decks, cargo holds and tanks.
•No known effect on rubber.
•Applicable to plastic, rubber and epoxy compounds as well to painted, coated and varnishedsurfaces.