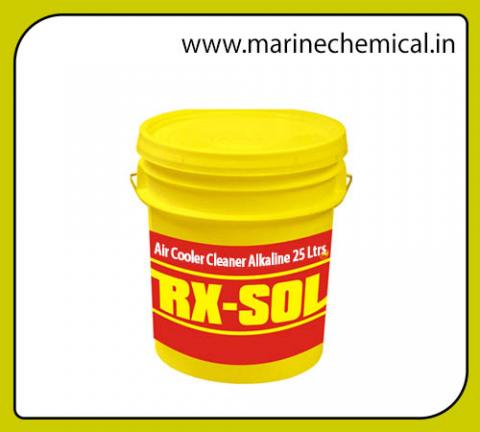 Air Cooler Cleaner Alkaline 25 Ltrs
Its special penetrating agents quickly emulsify & break up oily grime, dirt and air-borne industrial impurities. Super high foaming, deodorized, alkaline coil cleaner recommended for cleaning and brightening aluminum finned cooling and heating coils, cond
Product alias:
ALCLEAN- ALKALINE Condenser coil CLEANER, EUROLUBE Formula 2288 Alkaline Coil cleanerEURO, Coil Cleaners : Alkaline (Non-Acid) Foaming
Product Delivery Locations:
Mumbai, JNPT, Nhava Seva, Pirpav Jetty, Ballard Pier, Mumbai Port Trust, Butcher Island, ONGC EMR Shed, MIdc, Pune, Maharastra
Product Description:
Air Cooler Cleaner Alakaline ( Foam N Clean )
Acts as a Condenser Coil Re-Conditioner

Its special penetrating agents quickly emulsify & break up oily grime, dirt and air-borne industrial impurities. Super high foaming, deodorized, alkaline coil cleaner recommended for cleaning and brightening aluminum finned cooling and heating coils, condensers and evaporators. It's strong foaming action penetrates beneath contamination and pushes dirt and grease from the coil to the outer surface. Carbonaceous particles can be removed by Alkaline Cleaners.
OTHER GRADE OF AIR COOLER CLEANER :::
Dirt attached on air-side fins of air coolers are a mix of carbonaceous particles such as soot and oil mist of unburned fuel components.
Carbonaceous particles can be removed by Alkaline Cleaners while oil mist can be removed by oil based cleaners. However, it is very difficult to remove the mix of these substances. If you use an alkaline cleaner, oil will repel the water based alkaline cleaner; if you use oil based cleaner, carbonaceous particles will get in the way and stop oil from being removed.
This cleaners designed to remove both carbonaceous and oil simultaneously. An effective cleaning method is to immerse one side to remove the loose stains first, and then immerse the other side. This method can efficiently remove dirt and prevent swollen dirt peeled from fins from blocking the spaces between fins.
Dirt in tubes of seawater side
White scales attached on the seawater side of air coolers of many vessels. We found that in most cases, the main component of the scales is calcium carbonate and there is also a small amount of calcium sulfate. Therefore in most cases, if you dissolve the calcium carbonate the scales will be removed.
However, if the amount of scales is large enough to block the tube, the cylindrical scale will usually have calcium carbonate on the outside (the side that is in contact with tube) and calcium sulfate in the center (part that seawater passes through). Calcium sulfate is easier to be formed when the temperature goes higher.
When the amount of scales increases, the contact area of scale and cleaner is very small and a longer time of dissolution is required. Calcium sulfate cannot be dissolved by an acid cleaner.
RXSOL-54-1048-020 ( www.rxmarine.com/safe-acid-descalex-liquid-20-ltr ) is a powerful dissolving agent of calcium carbonate. Therefore, it is better to use RXSOL-54-1048-020 to do circulating cleaning at an early stage before the scales build up and block the tube, or regular cleaning is recommended as well. It is impossible to do a circulating cleaning when the tube is completely blocked.
Product Application:
Alkaline Coil Cleaner is specially formulated for brightening up all type of aluminum's surfaces and marine alloy or zinc material for surface cleaning, allow 5 to 10 minutes and hose off with pressure water. Recommended for use in air-conditioning repair shops, hospitals, apartment blocks, industrial plants, service companies, leisure complexes, government offices, and any unit, workshop or establishment that maintains or services air-conditioning, supply vessel air-conditioning systems.

Product Procedure:
Do not soak overnight with these materials.
Always try small test area at first to determine the best dilution rate for the cleaning.
Economical - Highly concentrated
can beDiluted up to 5 or 10 parts with water
RXSOL-16-1040-025 non-acid coil cleaners developed to provide foaming and brightening capabilities comparable to acid-based coil cleaners…without the dangers of hydrofluoric acid. for cleaning of Air coolers, Scavenging air systems and turbochargers of diesel engine.
1 > Excellent grease-cutting capability.
2 > High foaming action-penetrates deep into multi-row coils to foam out dirt,grease and grime.
3 > One step cleaner-cleans,brightens and deodorizes.
Typical Cleaning Method :-
Dilute 1-3 parts water and apply with alow pressure sprayer. Leave on coils for 3-7 minutes then flush with water until all foam is removed. If use don built up roofsetc., it is important to make sure all residual cleaner is washed off roof surface after application. If good housekeeping practices are not followed, roof deterioration is possible. If used indoors, strong fumes may cause irritation to sensitive individuals evacuate area if necessary.
Product Technical Specification:
Product Note:
Why RXSOL-16-1040-025 preferred by our CUSTOMER ?
⇔ Reduce air-conditioning cost by allowing air-conditioning systems and units to run at maximum efficiency , Saves energy costs
⇔ A proper regular maintenance program including the use can substantially lengthen condenser life and save equipment replacement and downtime.
⇔ Cuts quickly through oily grime and Industrial air-borne impurities to restore condenser coils.
⇔ Due to its high penetration effect , Agitation or Scrubbing doesn't require
⇔ Simple spray on off operation to restores dirty condenser coils to peak efficiency

Characteristics:-
Formulated to remove oil,grease & carbon deposits from air coolers & scavenging system
Efficient and economical.
May be used for in-service cleaning.
Renders surfaces oil-repellent.
Maintains and stabilizes air cooler efficiency at maximum.
Saves time, maintenance costs and avoids risks of damage when dismantling.
Leaves no residue and has no harmful effect on engine.
Product in water solution is non-flammable, non-explosive and has no flash point.
Can be used for light carbon removal from machinery parts