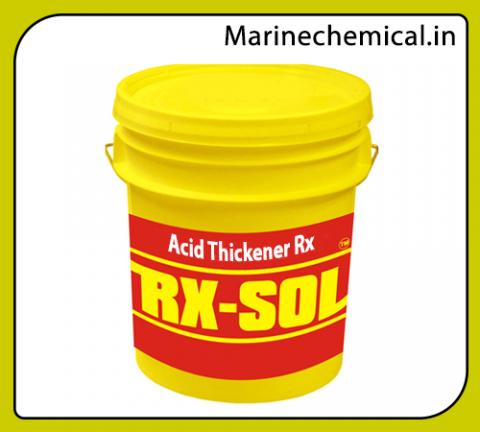 Acid Thickener Rx
Viscosity Builder for Toilet Cleaner
Product alias:
Atsomyn E-VB,Sudasol AT,Tomamine,Dynal TCM ,
Product Delivery Locations:
Mumbai, JNPT, Nhava Seva, Pirpav Jetty, Ballard Pier, Mumbai Port Trust, Butcher Island, ONGC EMR Shed, MIdc, Pune, Maharastra
Product Description:
Acid Thickener  Rx is a nonionic surfactant designed to build viscosity in acid media. Acid Thickener  Rx surfactant may be used alone in hydrochloric acid, or in combination with sodium chloride (salt) when used with other acids (such as phosphoric, sulfuric, hydrofluoric, citric, oxalic, etc.) Varying the use level of Acid Thickener surfactant (and salt) will vary the viscosity build. Acid Thickener  Rx is a versitle, broad spectrum non phenolic biocide & Fungicide for leather, paper, paint, textile,wood and water treatment , free from penta - chlorophenate.
Product Application:
It is an ethoxylate for preparing high viscosity acid solutions and thus is commonly known as acid thickener. It is most predominantly used in preparing liquid toilet cleaner based on hydrochloric acid.
Product Technical Specification:
Active content

Blend of Ethoxylates (~100%w/w)

Amine Value

120-160

Appearance

Pale yellow viscous liquid

Chemical Nature

Nonionic

Flash point

>250O C

Non volatiles @100OC

98-100%

Solubility

Miscible in water in all ratios

Sp. Gravity at 30 degree C

0.95-1